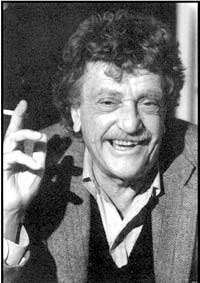 I know I've already posted today but my coworker showed me this and I just had to share it. Kurt Vonnegut is a personal idol to me yet I did not know that he briefly worked for Sports Illustrated. This was on the SI website today and its from the introduction to his latest book "Armageddon in Retrospect." This is what his son Mark had to say:
"He was not good at being an employee. Back in the mid-1950s, he was employed by Sports Illustrated, briefly. He reported to work, was asked to write a short piece on a racehorse that had jumped over a fence and tried to run away. Kurt stared at the blank piece of paper all morning and then typed, 'The horse jumped over the f***ing fence,'' and walked out, self-employed again.' ''
I've been laughing about this all morning.